Colorbond® Sectional Garage Doors
Designed to complement any outdoor décor or architectural style, Colorbond® sectional garage doors increase the curb appeal of any home.
Available in five attractive designs and a diverse range of stylish colours and finishes, personalising your perfect Colorbond® sectional garage door has never been easier.
Ranch Garage Door
Give your home a touch of country charm with this American-style garage door. Featuring rectangular embossments and a wood grain finish, the Ranch® garage door can be personalised with windows and your choice of colour.
Heritage Garage Doors
Perfect for modern or older homes, this British manor style is complete with square embossments and a beautiful timber-look finish. It can also be customised with your favourite Colorbond® colour and windows.
Slimline Garage Doors
Sleek and contemporary, it's no wonder the Slimline range of garage doors is so popular. Designed to suit any home, this eye-catching style is also available in a range of shades and finishes.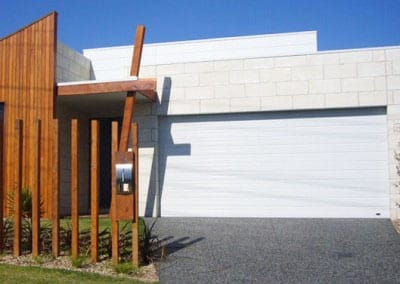 Glacier Garage Door
Whether you opt for a standard wood grain or smooth finish, this slatted design is sure to turn heads. If you're looking for a flawless finish, choose the Glacier garage door in your favourite colour below.
Flatline Garage Doors
Simple and clean, our Flatline garage doors are available in an embossed finish for added interest. These also come in a variety of finishes and colours.
Steel-Line Matt Range
The new Steel-Line Matt finish allows you to make stylish and defining design choices for building exteriors. Choose from five of Colorbond® steel's neutral colours to make your design statement.
To achieve this finish, these five neutral Colorbond® colours will be powder coated on BlueScope steel, creating a softer, subtler look.
Benefits:
Long term durability with exceptional corrosion and dirt resistance.
Manufactured in Australia and compliant with relevant Australian standards.
Designed to withstand the harsh Australian environment, maintaining its Matt finish, looking even better for longer.
Suitable from moderate to severe marine or industrial environments.
Complementary with Colorbond® Matt roof or window frames.
Colorbond® Classic Colour Range
Choose your favourite classic neutral or have fun with bold colour with the Colorbond® Classic colour range.
Offering a range of colours, hues and effects, you'll have no trouble finding the perfect colour scheme for your home with everyone's favourite choice of colours.
Colorbond® Timbergrain Colour Range